Vegan Stuffed Mushrooms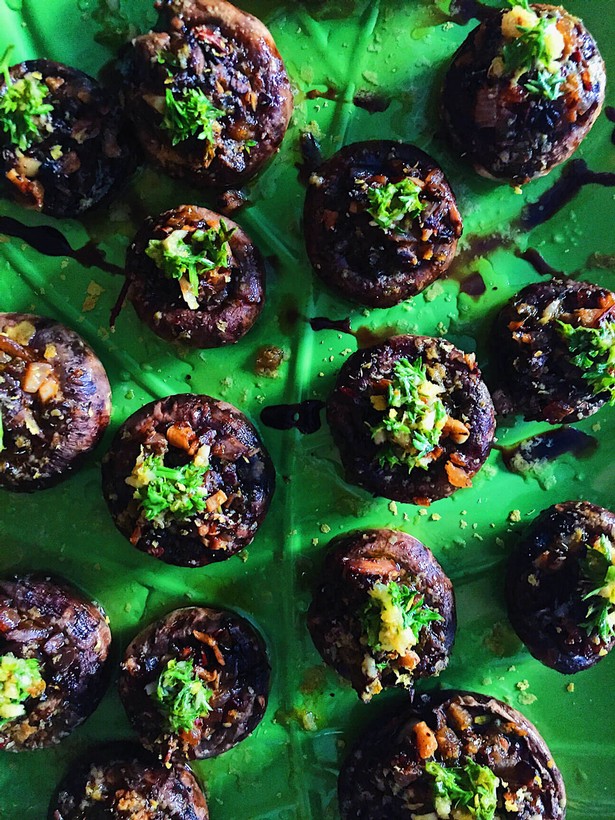 Recipe Date:
June 9, 2020
Measurements:
Imperial (US)
Ingredients
12 ozs cremini mushrooms
1/2 cup sun dried tomatoes (rough chopped)
5 green onions (thinly sliced)
3 fire roasted bell peppers (diced small)
4 cloves of garlic (minced)
1 bunch parsley (finely chopped)
1 bunch thyme (leaves only)
1/2 cup dry white wine
4 tbsps extra virgin olive oil (divided)
1 tbsp sea salt
Directions
Preheat oven to 325 degrees.
Start by separating the stems from the mushroom caps and save the stems for later use.
Place caps in a large bowl and toss with 2 tablespoons extra virgin olive oil until evenly coated.
Lay the caps hollow side down on a baking sheet or sheet pan and lightly sprinkle with sea salt. Bake at 325 degrees for 15 minutes or until cooked and tender. Remove from the oven, flip to let drain and set aside.
Preheat a pan with the remaining 2 tablespoons of extra virgin olive oil and add thinly sliced shallots and thyme leaves.
Cook over low heat until shallots are translucent. Finely chop the mushroom stems and add to pan, followed by minced garlic, roughly chopped sun-dried tomatoes and small diced roasted red bell peppers.
Bring heat to medium and cook for about 5 minutes, stirring occasionally. Add parsley, green onions and
To Serve
Stuff each mushroom with the sauté mixture and place on a serving tray as an appetizer or use to garnish your favorite entrée.