Sous Vide Tri Tip with Carrot-Glazed Chimichurri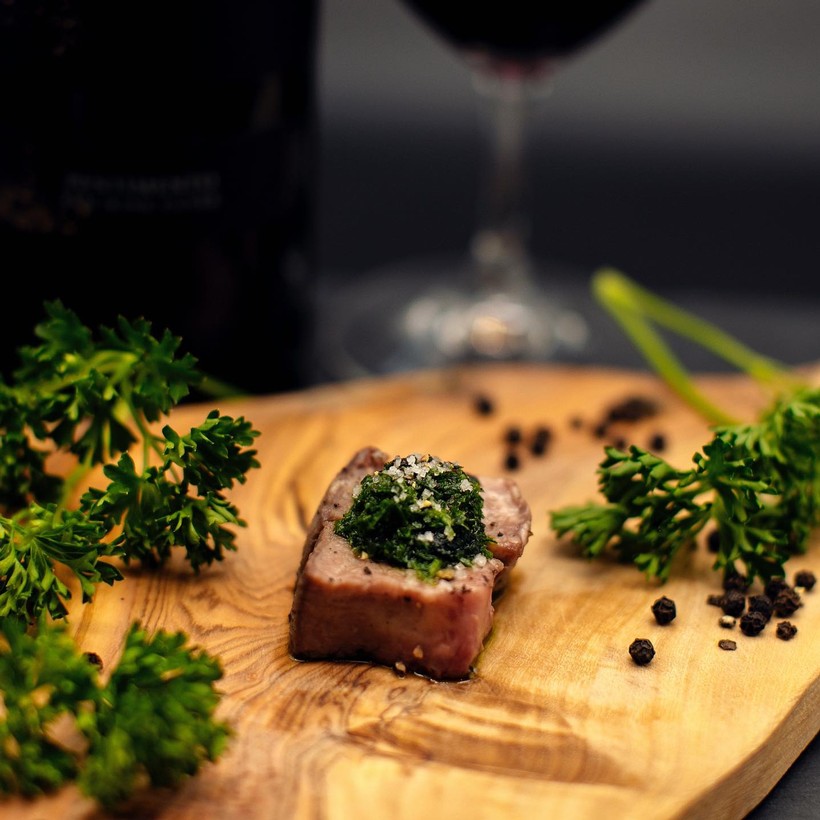 Recipe Date:
June 9, 2020
Measurements:
Imperial (US)
Ingredients
2 lbs tri tip (trimmed of fat)
2 1/2 tbsps umami season or shitake mushroom powder
2 tbsps smoked paprika
2 tbsps sea salt
3 cups carrot juice
3 bunches parsley (finely chopped)
1 bunch cilantro (finely chopped)
4 cloves garlic (minced)
2 fire roasted red bell peppers (finely chopped)
1/2 cup extra virgin olive oil
1/4 cup red wine vinegar
Directions
Tri Tip
Set your sous vide cooker to 130 degrees. Season the tri-tip well with mushroom powder, smoked paprika and 1 tbsp sea salt. Seal in sous vide bag, making sure there is no remaining air and place in sous vide bath for 3 hours.
Carrot Glazed Chimichurri
Pour carrot juice into a pot and cook over medium heat until liquid has reduced to roughly 1/3 of a cup. Remove from heat and let cool. Mix chopped parsley, cilantro, roasted red bell peppers and cooled carrot glaze in a bowl. Add olive oil and red wine vinegar making sure the mix is evenly coated. Salt and pepper to taste.
To Serve
For appetizers, cut tri-tip into cubes or strips and spoon over enough carrot-glazed chimichurri to cover the top without spilling over. Alternatively, use as a main dish and cut to desired portions.