* Speck Panini & Tomato Bisque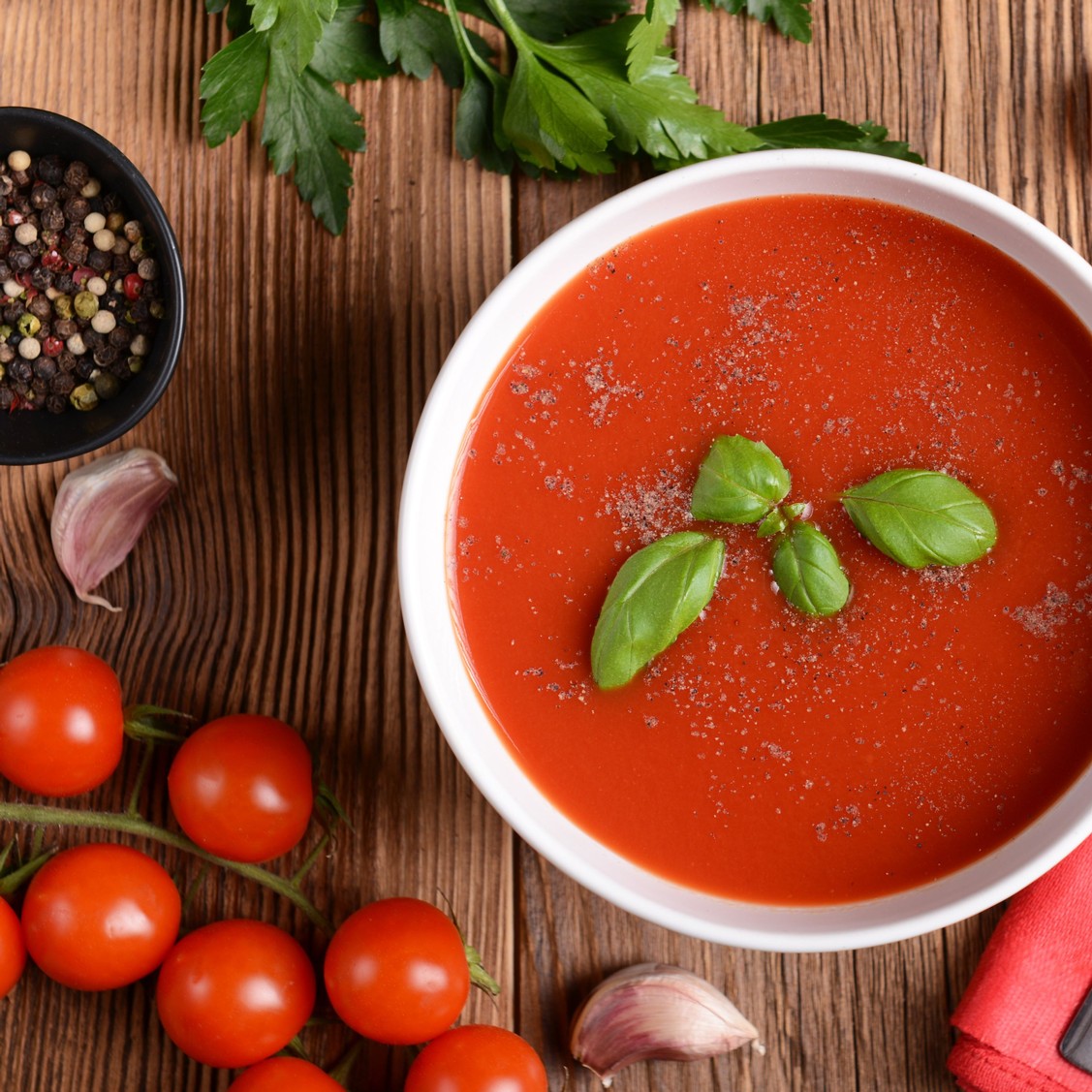 Recipe Date:
November 1, 2023
Measurements:
Imperial (US)
This is what the holidays crave. A warming wine & food pairing that can evoke long dormant memories of winters well spent at grandmas house.
Ingredients
1 cup extra virgin olive oil
1 cup basil
8 large tomatoes on the vine | halved
1/2 onion | quartered
4 garlic cloves
1 1/2 cups chicken stock
1/2 cup heavy cream
1 tbsp salt
2 tsps ground black pepper
2 tbsps extra virgin olive oil
12 slices provolone cheese
1 loaf ciabatta | 4-inch bias cut & sliced in half length wise
6 slices speck or prosciutto
2 tbsps olive oil
2 tbsps salt
12 basil leaves
Directions
For the basil oil:
1 cup extra virgin olive oil
1 cup fresh basil
In a blender, combine both ingredients and blend on high until evenly incorporated. Set aside.
For the tomato bisque:
8 large tomatoes | halved
1/2 onion | quartered
4 garlic cloves
1 1/2 cups chicken stock
1/2 cup heavy cream
2 tbsp extra virgin olive oil
1 tbsp salt 2 tsp ground black pepper
Preheat the oven to 400o F. Place tomatoes, onion, and garlic onto a sheet pan and coat with olive oil, salt, and pepper. Bake for approximately 30 minutes or until tomato skins are roasted and tender. Transfer the mixture to a blender, add chicken stock and puree until smooth. Using a sieve over a large bowl strain the puree. Return to a pot, whisk in heavy cream and cook over medium heat for 15-20 minutes. Keep warm over low heat while assembling paninis.
For the paninis:
1 loaf ciabatta bread | 4-inch bias cut & sliced in half lenthwise
12 slices provolone cheese
10 slices speck or prosciutto
12 basil leaves
2 tbsp olive oil
2 tsp salt
Heat panini press. Brush olive oil on one side of each slice of the bread, then layer speck, provolone cheese and 2 basil leaves. Press together, brush oil on the outer sides of the bread, sprinkle a pinch of salt and place into the panini press. Heat sandwich on panini press until golden brown and cheese is melted.
To serve:
Divide soup among warm bowls, garnish with basil oil and serve each alongside a panini.