Red Wine & Mushroom Risotto with Parmesan Tuile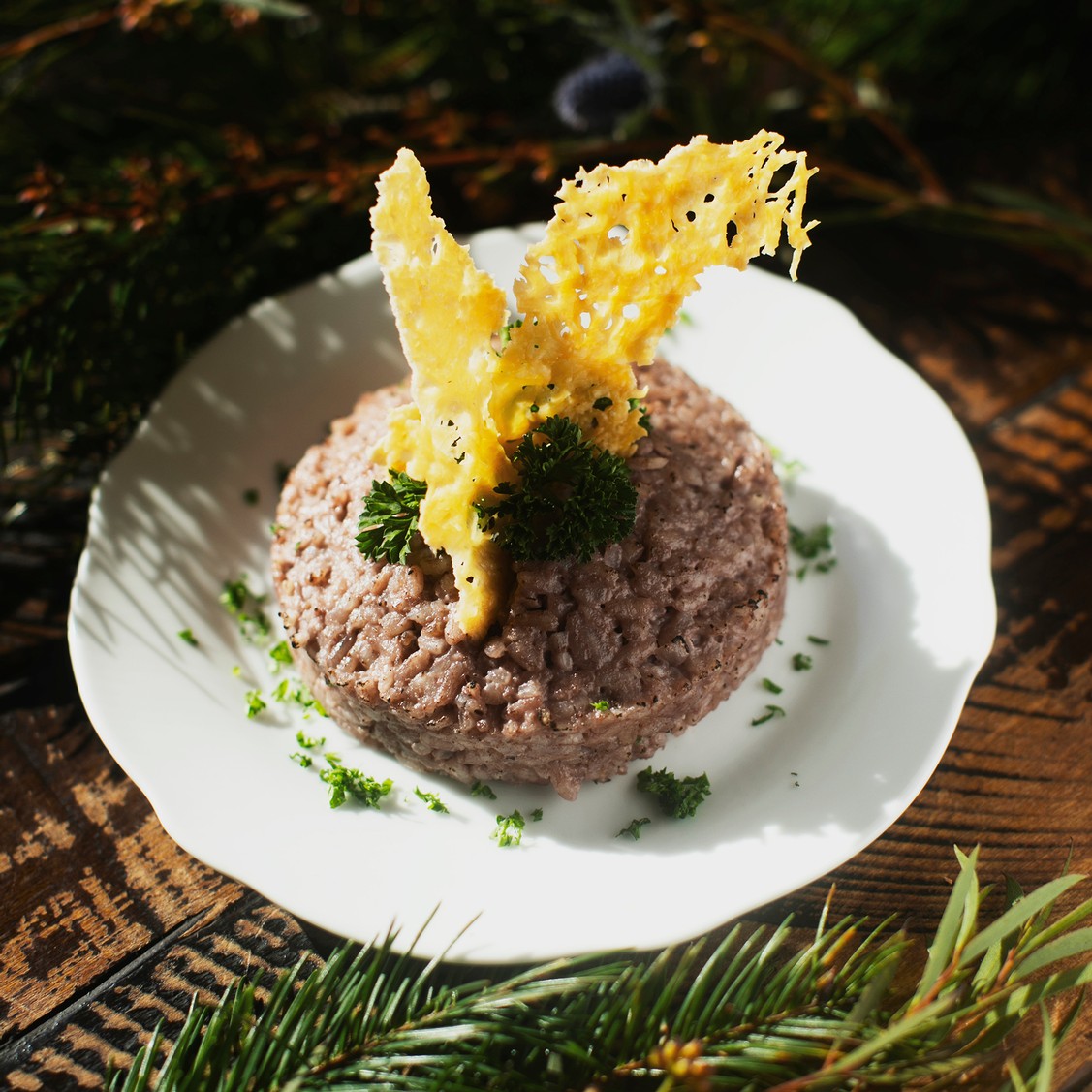 Recipe Date:
January 3, 2021
Measurements:
Imperial (US)
Ingredients
4 cups vegetable Stock
1 cup arborio Rice
1 cup Le Cuvier Pentimento
1/2 cup heavy cream
1/2 cup parmesan | coarsely shredded
1/2 onion | diced
2 tbsps olive oil
1 1/2 tbsps porcini mushroom powder
1 bunch parsely | finely chopped
Directions
Preheat oven to 350 degrees. In a medium saucepan add olive oil, turn heat to high and sweat onion for 2-3 minutes, add in dry rice and continuously stir. Once rice is toasted, deglaze pan with red wine (we recommend Le Cuvier – Pentimento blend or any other of our Bordeaux blends) until all liquid has evaporated. Pour 2 cups of vegetable stock and add porcini mushroom powder and mix. Lower the heat and simmer for 15 minutes. Add the rest of the vegetable stock and simmer for 15 more minutes. Once the rice is starting to become al dente, incorporate heavy cream and finish on low heat for an additional 5 minutes.
Preheat oven to 350 degrees.
For the Parmesan tuille, line a baking sheet with parchment paper and spread the shredded parmesan in a thin layer, keeping the pieces close and tight. Bake for 10 minutes or until it is crisp and can be broken into pieces.
To serve, dish a desired amount of warm risotto onto a plate, garnish with chopped parsley and crispy parmesan tuille. For added protein we recommend serving with oven roasted chicken or rabbit.