Orange-Thyme Profiterole with Blueberry-Goat Cheese Mousse and Orange Zest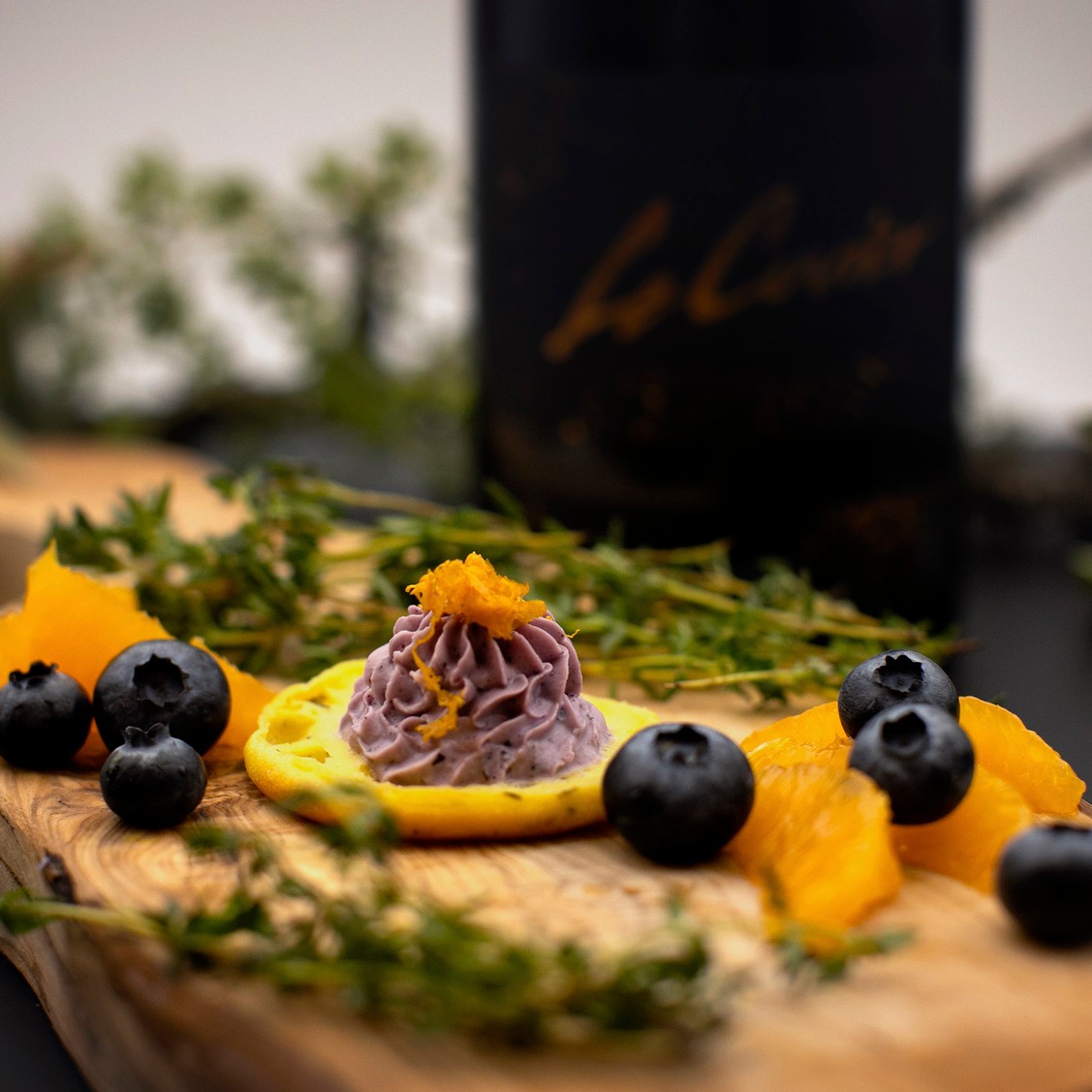 Recipe Date:
September 23, 2020
Measurements:
Imperial (US)
Ingredients
6 tbsps butter
3/4 cup flour
1/2 cup orange juice | fresh squeezed
1/4 cup water
3 large eggs
2 tbsps thymes | destemmed
1/4 tsp salt
1 tbsp butter | melted
2 cups heavy cream
1 1/2 cups goat cheese
2 1/2 ozs dehydrated blueberries
1 small orange | zested
Directions
Preheat oven to 425 degrees. In a medium pot over high heat, combine butter, water, orange juice, and thyme; bring mixture to a boil. Remove from heat and slowly add flour and salt mix until dough is formed and does not stick to the pot. Place dough into a bowl and allow to cool down slightly. Transfer warm (but not hot) dough to mixer fitted with a paddle attachment, and fold in the eggs one at a time. Scrape dough into a piping bag. Line a large baking sheet with parchment paper and pipe 1½ inch sized circles. Using the back of a spoon dipped into melted butter, slightly flatten each dough round. Bake for twelve minutes. Rotate and use a toothpick to poke individual holes in each profiterole, and bake for ten more minutes. Transfer the baking sheet to a rack to cool.
For the mousse, whip goat cheese and heavy cream until a smooth consistency is formed. In a food processor, add dehydrated blueberries and pulse into a powder. Add goat cheese and heavy cream mixture and blend until well incorporated. Transfer mixture to a piping bag fitted with a ¼ inch star tip.
Once profiteroles are cool, cut in half and pipe blueberry goat cheese mousse onto each round. Garnish with orange zest.