Braised Lamb with House Made Potato Crisp and Rosemary Pesto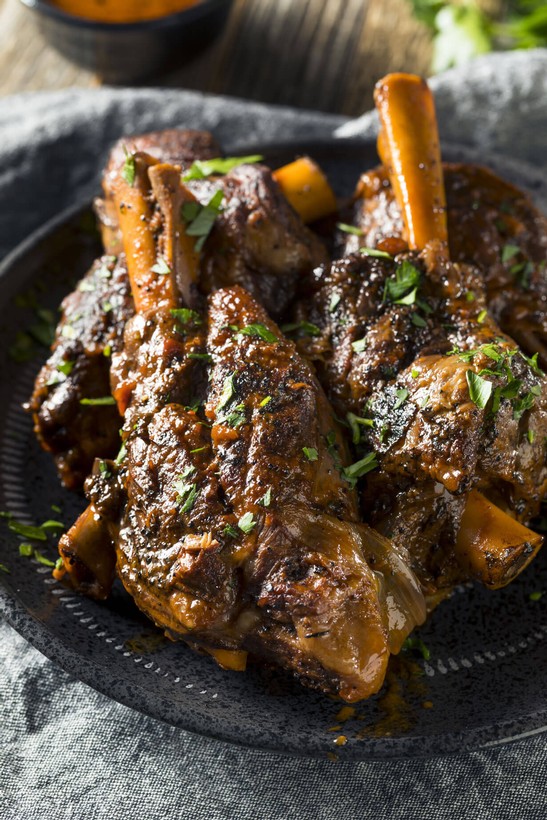 Recipe Date:
January 1, 2020
Measurements:
Imperial (US)
A hearty wintertime dish. Can be served warm or cold, eaten as an hors d'oeuvres or an entrée with additional sides.
Ingredients
1 leg of lamb | we recommend locally J&R Meats
1 bunch thyme
1 bottle red wine | recommended: 2016 Cabernet Sauvignon
1/2 gallon veal demi-glace
1/2 cup whole black peppercorn
5 tablespoons salt
4 Kennebec potatoes
1 gallon Canola oil
1 bunch curly leaf parsley | destemmed
2 springs of rosemary | destemmed
1/2 cup extra virgin olive oil
2 cloves of garlic
1 tablespoon sherry vinegar
Directions
(Specialty tools)
Candy or laser thermometer
Mandolin
Finely meshed large sized chinois
Lamb:
Preheat oven to 400 degrees Fahrenheit. Place leg of lamb in a deep roasting pan. Coat liberally with 4 tablespoons of salt & place in the oven. Pre-roasting the lamb will render some of the fat for about half an hour while preparing the demi-glace (instructions below).
In a large sauce pot add the bottle of wine, peppercorns and thyme and bring to a boil. Reduce wine by half. Add demi-glace and bring mixture to a boil. Once mixture has reached a boil remove from heat and strain through a finely meshed large chinois into a separate container to remove solids. Pull lamb from oven. Pour strained demi-glace liquid over lamb. Tightly wrap roasting pan with foil to make airtight. Return to oven and braise for 6 hours.
After 6 hours of slow braising, remove lamb from oven and place into a separate mixing bowl, reserving the liquid. Remove bones (the meat should fall off easily). Add one cup of braising liquid to mixing bowl, pull meat gently apart using two forks until it reaches the desired consistency. Salt to taste and set aside.
Pesto:
In a food processor, add destemmed parsley, destemmed rosemary, olive oil, garlic, salt and sherry vinegar. Blend together until fine. Set aside.
Potatoes:
Pour canola oil into a large frying pan or sauce pot. Bring oil temperature to 350 degrees. Monitor using candy or laser thermometer. Clean potatoes. Do not remove skins. Thinly slice using knife or a mandolin (consistency of potato thickness is important to ensure even cooking). Slowly add sliced potatoes to oil***. Steadily stir until golden and crispy. Carefully remove from oil with slotted utensil or handled strainer. Carefully place potatoes on paper towel lined baking tray to remove excess oil. Salt to taste and set aside to cool. Transfer to airtight container to retain texture and freshness.
To serve as an hors d'oeuvre place one to two teaspoons of braised lamb onto potato crisp, followed by a healthy dollop of pesto.
***Be cautious when adding potatoes to hot oil. Any residual moisture may result in boil over if too many potatoes are added at one time. Immediately turn off flame in event of boil over and remove potatoes from the oil. Promptly & safely clean stovetop and frying pot of any excess exterior oil before continuing to cook.