Bouillabaisse Provencal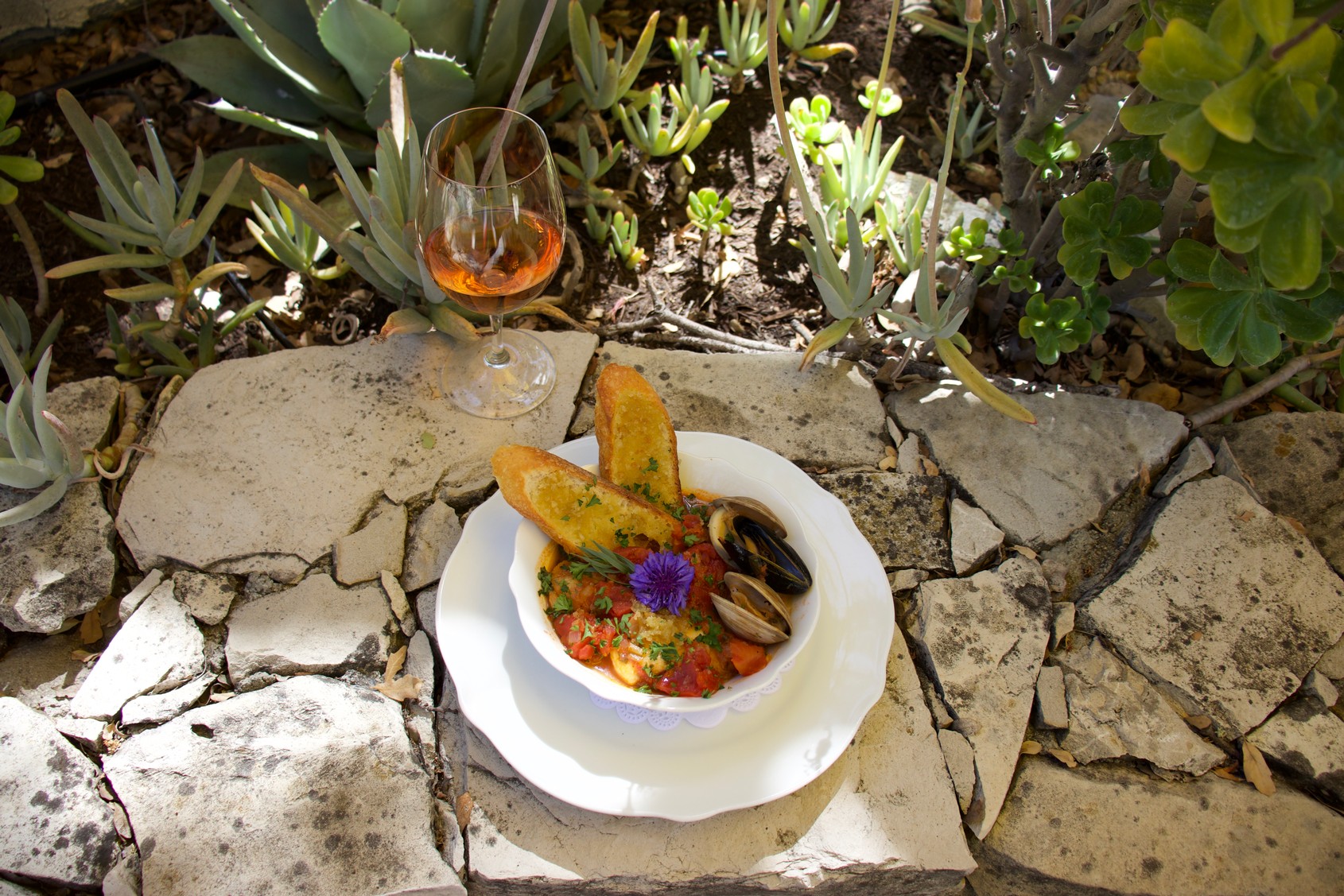 Recipe Date:
July 1, 2022
Measurements:
Imperial (US)
Floral, sweet and zesty notes from the deeply flavored broth mirror the citrusy and herbaceous profile of our 2019 Rose. Best enjoyed with your closest friends in late summer to early fall, around the sunset hour. (Serves 6 as a soup course or 4 as a main entree)
Ingredients
1 1/2 lbs halibut | cut into 1 inch cubes
1 1/2 lbs mussels (PEI) | scrubbed and rinsed
1 1/2 lbs little neck clams | scrubbed and rinsed
1/2 lb shrimp | cleaned and deveined, if necessary
1/2 lb scallops | washed
3 garlic cloves | coarsely chopped
1/2 white onion | thinly sliced
1 bunch scallion | thinly sliced
2 cups canned tomatoes | diced
1 cup dry white wine
4 cups seafood stock
1 tsp thyme | chopped
1 1/2 tbsps tarragon | chopped
1 tsp saffron threads | crumbled
1 1/2 tsps salt
1 1/2 tbsps pepper
Directions
Soup Directions: Heat olive oil in a large pan over medium heat, add onion, scallions and garlic and sautee until soft, about 5 minutes. Add tomatoes, wine and fish stock, stir in thyme and bring to a boil. Add salt and pepper, reduce heat and simmer for 15 minutes, partially covered.
Return to a boil, add clams, mussels and saffron, and cook for 2 to 3 minutes. Add halibut, shrimp, and scallops, and gently boil for another 2 to 3 minutes. The halibut, scallops and shrimp should be thoroughly cooked and the clams and mussels should have opened. Stir in chopped tarragon and adjust with more seasoning, if necessary.
Rouille Ingredients: (can be made ahead of serving)
1.5 cups bread crumbs
4 tbsp water
1/4 cup olive oil
2 garlic cloves | finely chopped
fleur du sel to taste
Rouille Directions: add bread crumbs and garlic into a food processor and moisten with water. While the processor is running slowly add olive oil until rouille reaches a soft paste consistency. Depending on the bread crumbs used, you may need to add more water or oil. Once the consistency is achieved, finish with fleur du sel.
Crostini Ingredients: (can be made ahead of serving)
12 slices french baguette | cut diagonally into 1/4 inch slices
olive oil
garlic cloves
Crostini Directions: Heat oven to 350 degrees F. Brush olive oil on both sides of the baguette. Toast on a baking sheet for 5 minutes or until golden in color. Rub each slice with the garlic close and set aside.
To serve: Ladle soup and seafood portions evenly into bowls with halibut on top. Spoon rouille evenly onto the crostini and dip halfway into the soup. Dollop a spoonful of rouille onto the halibut.