Back to your Roots Pairing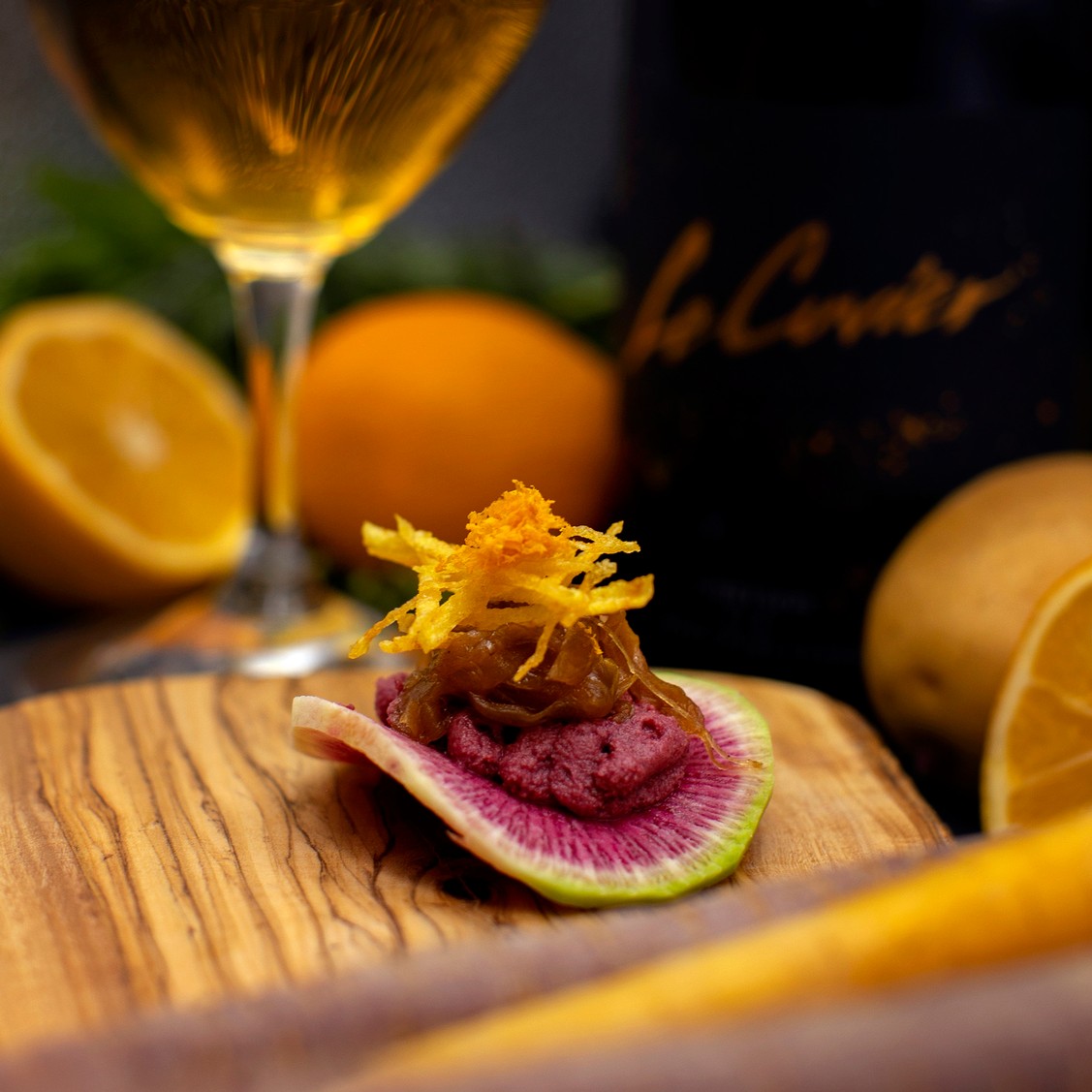 Recipe Date:
September 24, 2020
Measurements:
Imperial (US)
Ingredients
1 watermelon radish | thinly sliced
2 purple carrots | cut into rounds
1 yellow onion | julienned
1 medium-sized potato | shredded
1/4 cup vegetable stock
1 cup heavy cream
2 cups frying oil
1 tbsp olive oil
1 meyer lemon | zested
1/2 tsp white pepper
1 pinch of salt
Directions
Peel outer layer of the radish and cut into thin rounds using a mandolin. Place radish rounds into a bowl, cover with water and let soak to avoid drying out; set aside. In a small saucepan, boil together peeled and cut carrots, vegetable stock, heavy cream, and white pepper until carrots are tender. Transfer mixture to a blender, remove or loosen the center cap and cover the lid with a folded dish cloth to prevent pressure from building; blend until smooth. Julienne the yellow onion. In a medium saucepan, warm olive oil and add onion and salt. Cook on low heat for twenty minutes until lightly caramelized. Remove from heat and set aside. Heat frying oil in a medium sized pot to 375 degrees Fahrenheit. Shred and pat dry the potato and fry until crispy and golden in color. Zest the lemon and set aside.
Pipe a tablespoon sized amount of purple carrot purée onto the center of a radish round, add a pinch of caramelized yellow onion on to the purée, then top with a few pieces of shoestring potato fries; finish with a pinch of lemon zest.