Seared Duck Breast on House-Made Potato Chip with Purple Cauliflower & Lavender Puree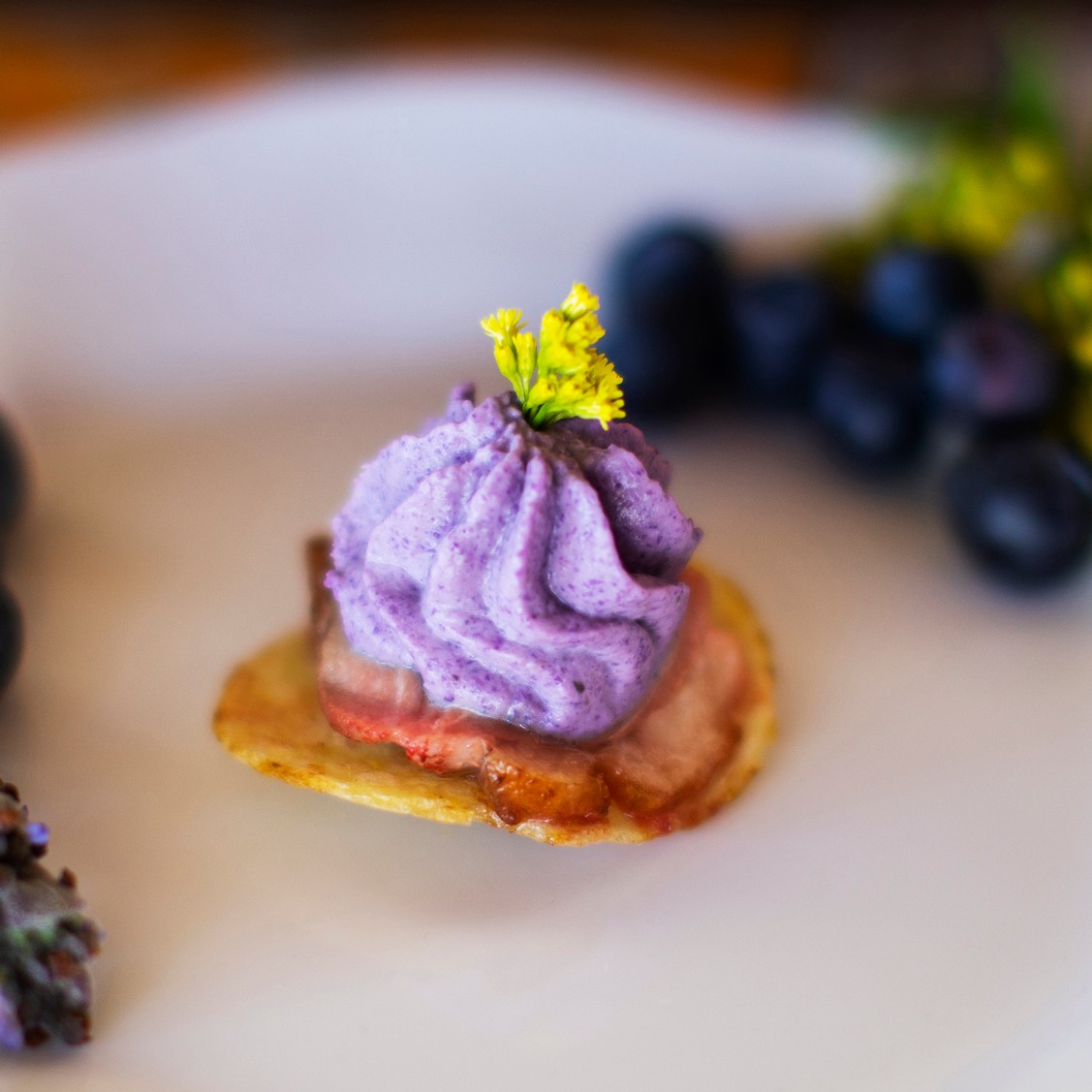 Recipe Date:
February 25, 2021
Measurements:
Imperial (US)
Ingredients
4 creamer potatoes | thinly sliced on a mandolin
4 cups fry oil
2 duck breasts
1/2 head purple cauliflower
1 basket blueberries
1/4 cup heavy cream
3 drops food grade lavender oil
2 tbsps extra virgin olive oil
Directions
In a medium pot combine blueberries, cauliflower, and cream. Reduce until cauliflower is tender. Using an immersion blender or a stand-up blender puree all ingredients until smooth. Strain and fold in lavender. Let cool and refrigerate.
Heat fry oil in a large pot to 325 degrees. Pat dry creamer potatoes. Place potatoes in oil and keep chips submerged for even frying until golden brown and crispy. Remove from the fryer, toss in a bowl with a pinch of salt and set aside.
Trim duck breast skin if not done already, diagonally score the skin and pat breast dry. Salt both sides. In a large saute pan, heat extra virgin olive oil until it begins to lightly smoke. Place duck breast skin side down, rotate after 1 minute and/or cook to desired temperature. Set aside to cool and portion to desired size.
To assemble
Top chips with a piece of duck, a dollop of cauliflower puree, and garnish with any yellow edible flowers.