Rosemary-Infused Beluga Lentils with Duck Confit & Pomegranate Gastrique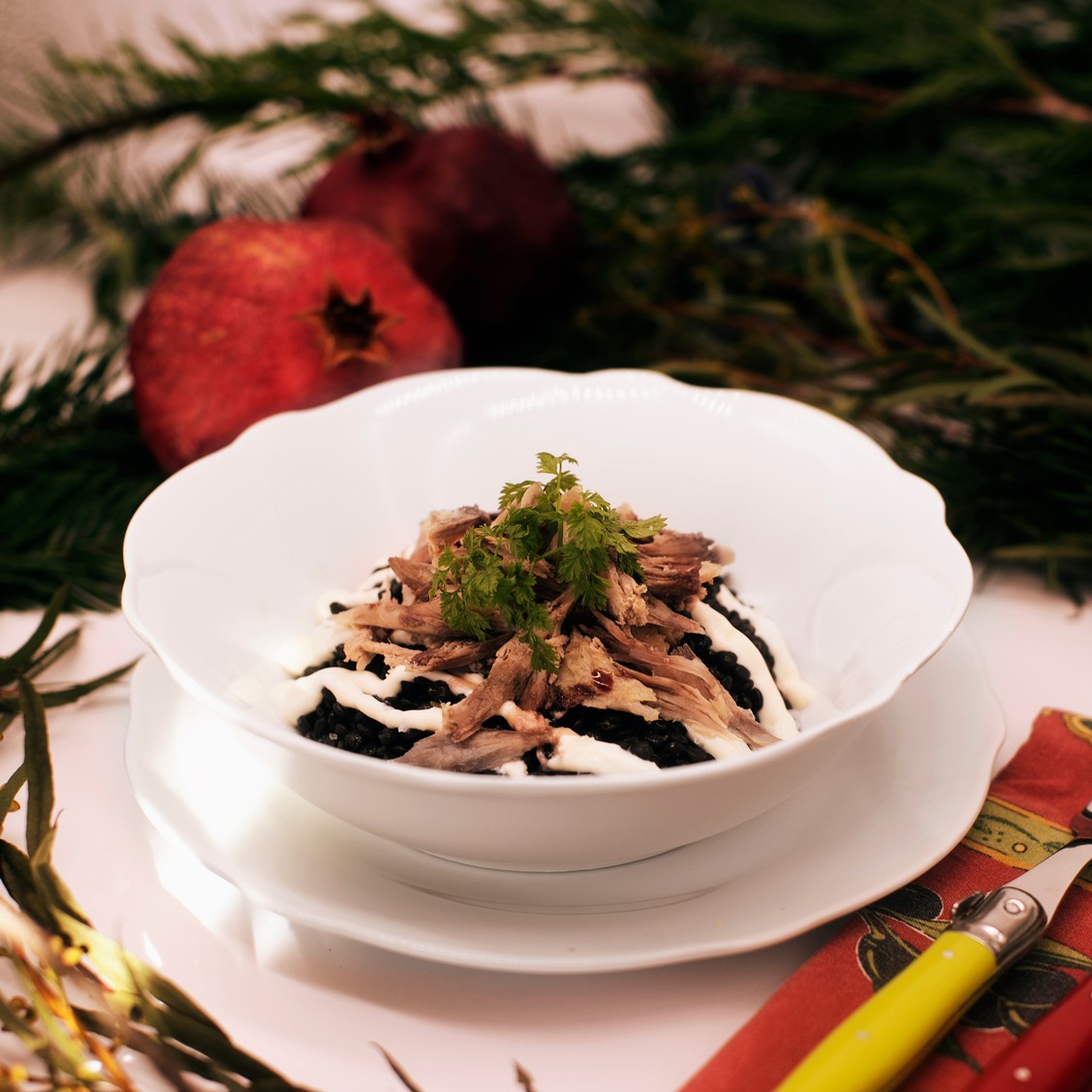 Recipe Date:
January 3, 2021
Measurements:
Imperial (US)
Ingredients
4 duck thighs
3 cups duck fat
4 tbsps salt
5 cups vegetable stock
2 cups beluga lentils
4 sprigs rosemary
1 handful of chervil
4 tbsps crème fraîche
4 cups pomegranate juice
Directions
Preheat oven to 250 degrees. Salt duck thighs and place in a deep baking dish. In a large pot, warm up the duck fat to a liquid and pour over the thighs in the baking dish (please note: duck thighs must be fully submerged). Place in oven and bake for 3 ½ hours.
While the duck is in the oven, pour the pomegranate juice into a large pot over high heat. Reduce down to ½ a cup and test for a syrup-like consistency. Remove from heat and allow to cool.
In a large pot over high heat, add the vegetable stock and beluga lentils. Place the sprigs of rosemary on top and bring to a simmer. Reduce to low heat and cook for 35 minutes or until lentils are tender. Remove rosemary sprigs and toss with extra virgin olive oil.
Once the duck is finished baking, remove from oven and let rest.
If you wish to serve as an appetizer remove meat from the bones and lightly shred.
To plate as an appetizer:
On a Chinese soup spoon add the lentils, a dime sized dollop of creme fraiche, shredded duck, and finish with a drop of pomegranate gastrique and a chervil leaf.
To plate as a meal:
In the middle of the plate add 6 oz of beluga lentils, drizzle crème fraiche, top with duck thigh and a sprig of chervil.
Using a squeeze bottle or plating saucier spoon with spout decorate the outer edges of the plate with pomegranate gastrique in a zig-zag or circular motion.