Oven Roasted Chicken with Green Lentils & Carnival Squash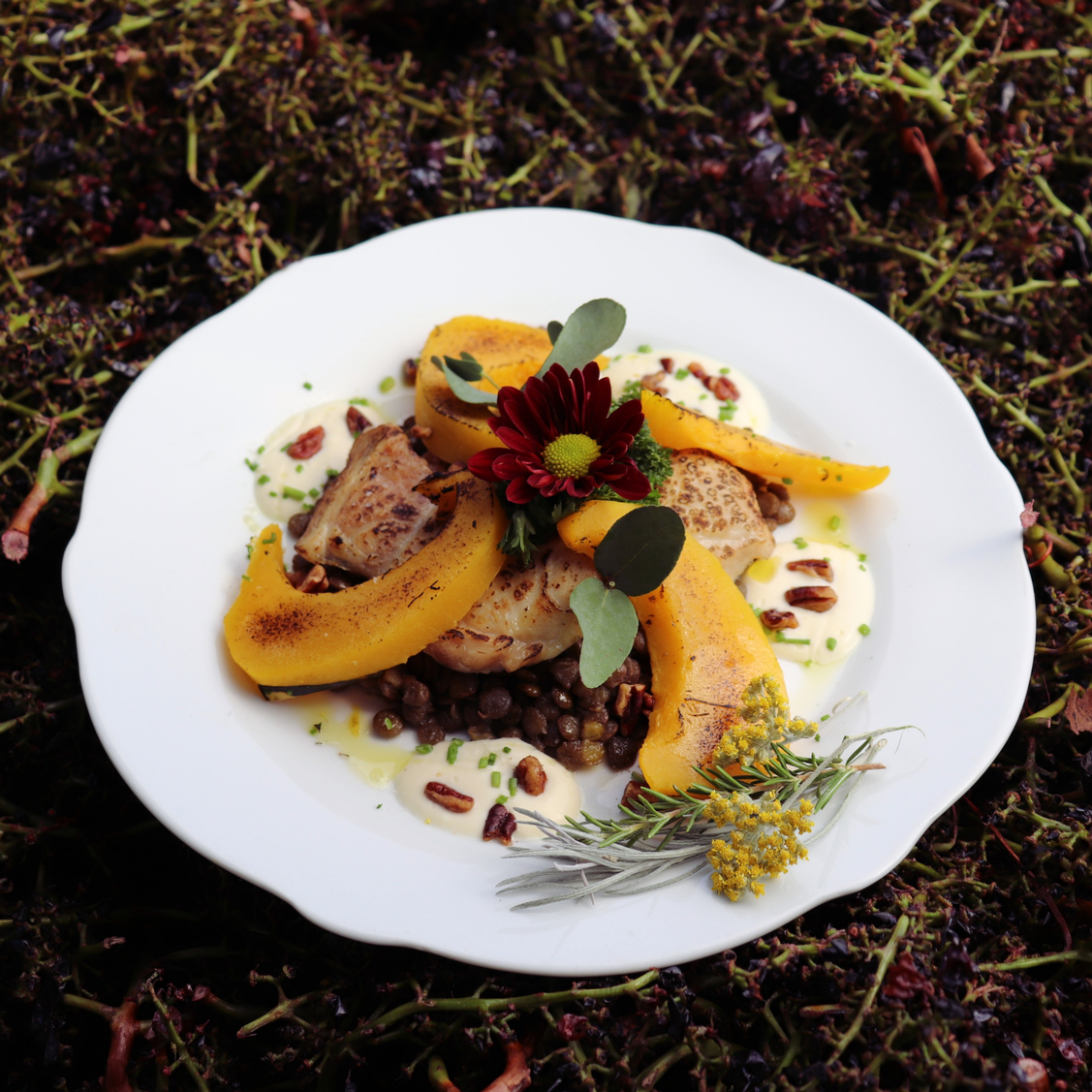 Recipe Date:
October 1, 2021
Measurements:
Imperial (US)
Warm fall flavors paired delicately with our 2017 Cabernet Sauvignon XLB.
Ingredients
4 boneless | skinless chicken thighs
1 carnival squash
2 cups green lentils
4 cups vegetable stock
1 cup extra virgin olive oil
4 sprigs of thyme
2 sage leaves
3 tbsps salt
1 tsp fermented white pepper (we recommend Burlap & Barrel)
1 tsp black pepper
1/2 cup pecans | roughly chopped
1 tsp nutmeg
1/2 cup creme fraiche | for garnish
1/8 cup chopped chives or parsley | for garnish
Directions
Preheat oven to 350 degrees F.
Peel carnival squash and slice into quarters. Remove seeds, coat with olive oil, salt and fermented white pepper and place in a deep baking dish with 1/2 inch of water at the bottom. Cover with foil and bake for 45 mintues of until tender.
Trim any excess fat from chicken thighs, lightly coat with olive oil, salt and black pepper and place on a baking sheet with a sprig of thyme atop each piece. Bake for 35 minutes of until fully cooked.
Combine 2 cups green lentils with 4 cups of vegetable stockand 2 sage leaves. Bring to a boil, then reduce to a simmer for 35 minutes or until desired tenderness. Remove any excess liquid and evenly toss with olive oil.
Place 1/2 cup of pecans in the oven for 4 minutes. Remove from oven (handle carefully) and lightly toss with olive oil and 1 tsp of nutmeg. Return to oven for an additional 3 minutes.
To serve:
Place lentils in the center of your plate in a mound, top with chicken thigh and squash.
Garnish with creme fraiche, chives and/or parsley.