Carnitas Tostada with Carrot & Cilantro-Lime Crema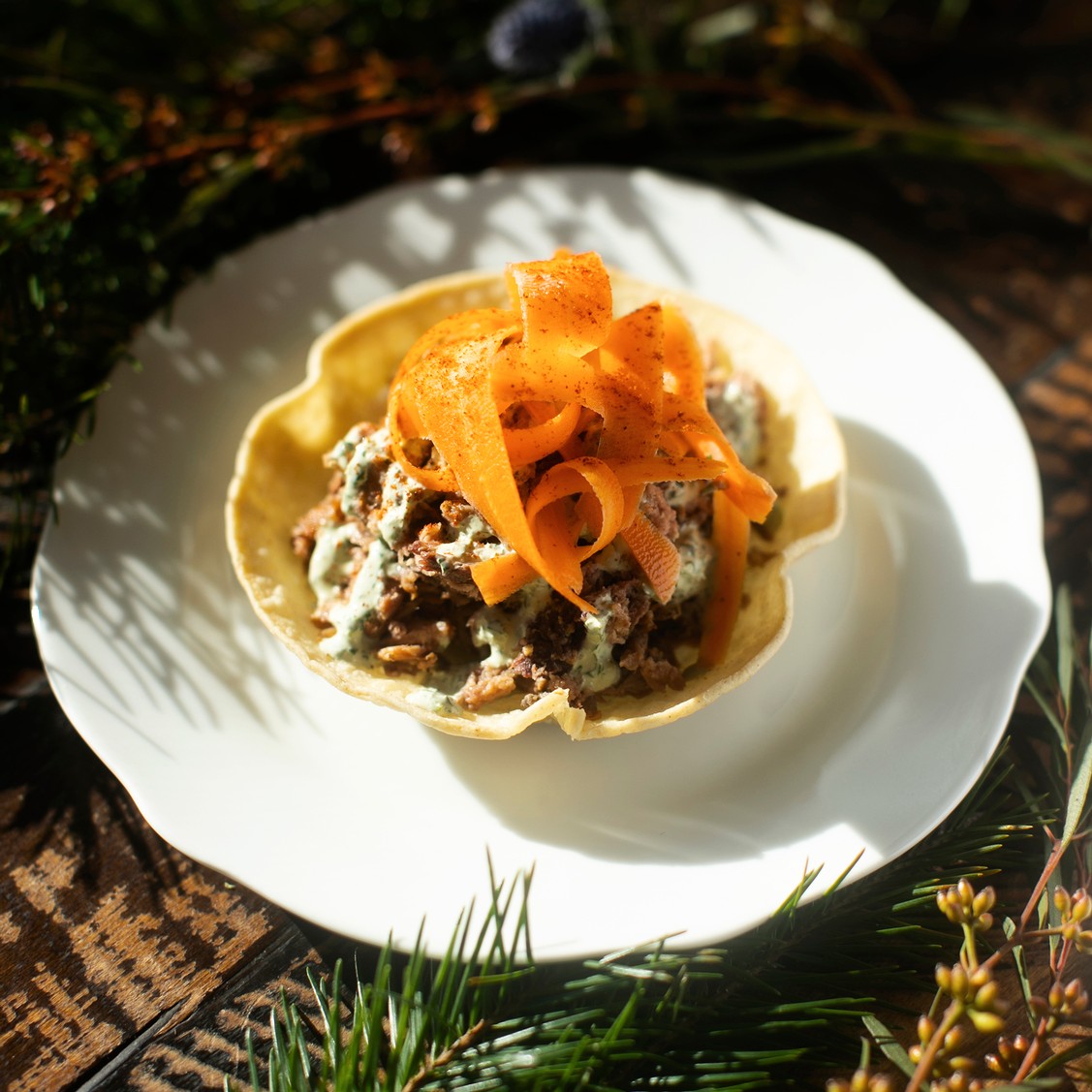 Recipe Date:
January 3, 2021
Measurements:
Imperial (US)
Ingredients
1 pork shoulder
2 cups orange juice
1 cup whole grain mustard
1/4 cup salt
4 tbsps smoked paprika
4 tbsps ground black pepper
3 tbsps ground cumin
2 tbsps garlic powder
4 bay leaves
2 bunches of thyme
2 cups water
2 tbsps salt
1 carrot | peeled & shredded
2 cups crema or sour cream
4 limes | zested
3 bunches of cilantro
2 tbsps canola oil
20 white corn tortillas
Directions
Preheat oven to 400 degrees. In a small bowl, combine salt, paprika, garlic powder, cumin, and black pepper. Place pork shoulder in a baking dish and rub the seasoning all over. Rub whole grain mustard all over the pork. Heat a large sauté pan with oil and sear all sides of pork shoulder. Place the shoulder back into the baking dish, fat side up. Fill the pan with orange juice. Spread thyme and bay leaves over the pork. Cover the dish with aluminum foil and seal tightly. Braise for 4 hours.
While the pork is braising, in a blender combine sour cream, zest, and cilantro. Blend until smooth and crema has a green tint.
Shave carrots and add to a bowl with salt and water. Set aside.
When the pork is finished braising allow to cool remove from the bone. Shred the meat and set aside. heat up frying oil and bring up to 350 degrees. Fry until golden in color.
To serve as a tapa or family style, start with tortilla shell, add shredded pork and top with carrots and cilantro-lime crema.